If you crochet a lot, chances are you have explored the world of online yarn shopping. I love my local yarn store but can't quite afford a lot of their gorgeous products. This is especially true for bigger projects like throws and blankets. While I was trying to venture out of my known yarn zones in the craft store isles, I still needed to stay on budget. That's how I found Knit Picks. I've already ordered a few times from them and wanted to share some of my experiences. If you've ever looked around their site but didn't know if you would like the yarn, keep reading for my honest knit picks yarn review!
Knit Picks yarn review: what you should know before you order Knit Picks yarn online
*Disclaimer: This is an unbiased review based on my own experiences with knit picks yarn. I did not receive any yarn or compensation. However, I am an affiliate which means that I get a small commission if you go there from my blog and order from them. I only became their affiliate after having ordered from them and now I use their yarn all the time!
Knit Picks has a big variety of yarn lines and weights, I have ordered three of their budget friendly yarns: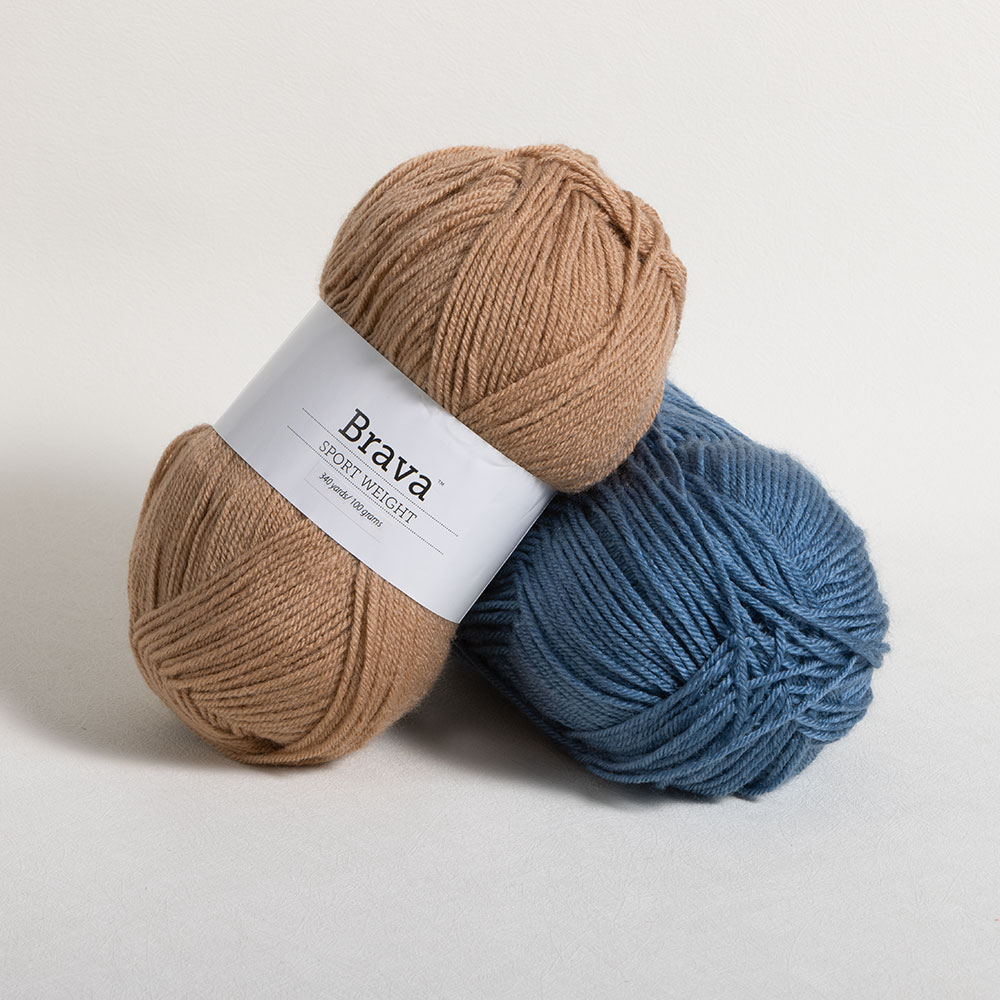 I first ordered this yarn as one of their yarn value packs (which are always fun to browse through and offer 25% off). I used it for my Fall Afghan.
The yarn comes in three different weights: Sport, Worsted and Bulky. It is 100% acrylic and is $1.99 per 100g. I have tried Sport weight and Bulky so far and will be getting worsted next.
Pros of Brava yarn:
You can't beat the price! This is a big one for me since I enjoy making larger projects and this is just so affordable! I ordered a yarn value pack in Sport weight and got an extra 25% off. I have to say, the Sport weight is a really nice yarn. It does not feel like a cheap Acrylic at all. The drape is awesome and it is now my go to light weight yarn. I would definitely recommend it!
Another huge Pro for me are the color choices! The dyes are gorgeous and ordering online you can really get creative and take advantage of the whole range of colors!
Cons of Brava yarn:
I ordered the Brava Bulky yarn as I am always looking for a replacement for Vanna's choice yarns which is a heavier worsted. I thought the bulky might come close since Knit Picks yarns are generally on the thinner side. The bulky weight, however, did not make me very happy. The ends were frayed and the material seemed off. While it was soft and squishy, it just felt a little plasticky. It is still an amazing value for a bulky yarn. I would use it for rugs and pouffs, but not really for wearables.
Check out the range of colors and click here for my favorite fancy (but secretly cheap) yarn, the Brava Sport weight!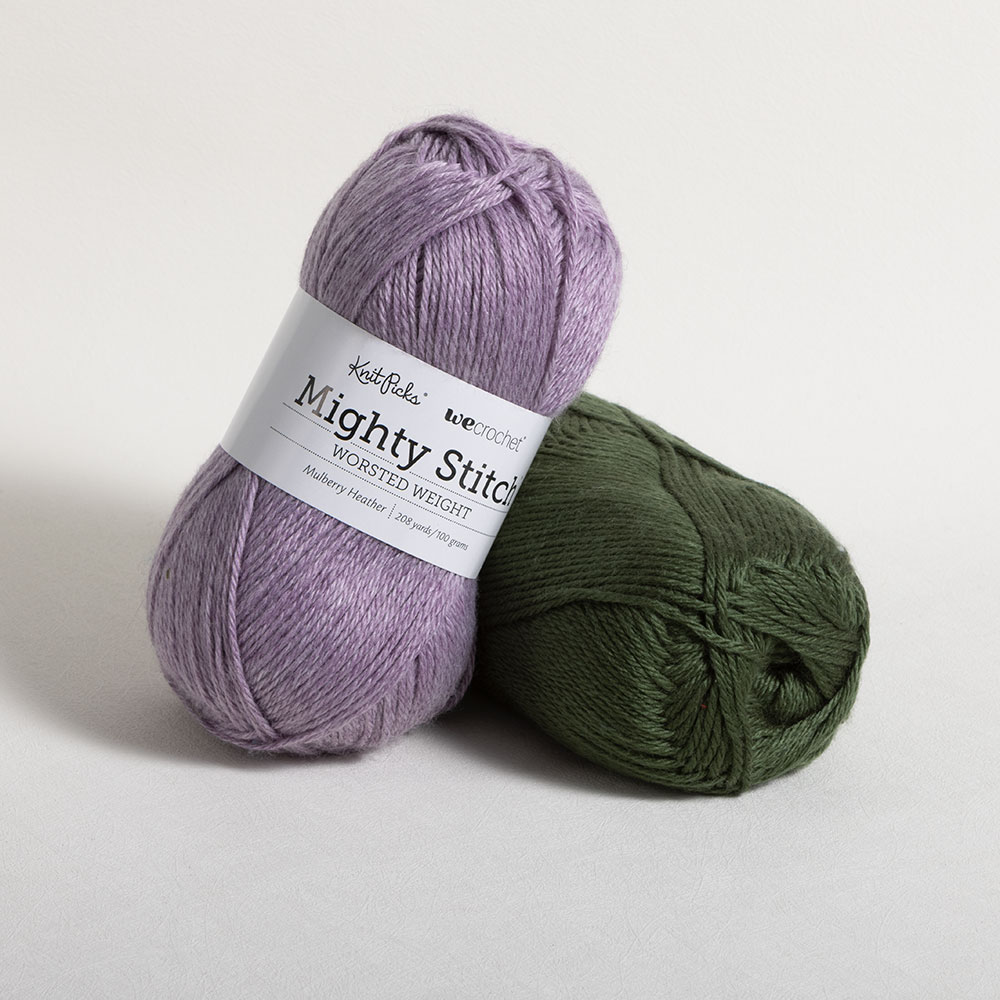 Mighty Stitch is a wool blend. It is 80% acrylic and 20% Superwash wool. It is currently $3.49 per 100g and comes in worsted, bulky and super bulky. I have ordered the worsted so far but definitely will try out the bulky as well!
The mighty stitch worsted is on the very thin side of the worsted weight spectrum and I had to experiment a bit to get the gauge for regular worsted weight projects right. It is also not very "fluffy". I think a commonly known yarn you could compare it to would be Caron simply soft. Although the Mighty Stitch is certainly superior to the Caron Simply Soft when it comes to drape, it works up similar. So if you already like Caron you will probably love this yarn and the absence of "fluffyness" is not a con to you at all. I had to get used to it but I now LOVE it for hats and scarves. This brings me to the first Pro.
This yarn is soft, soft, soft!! I can not stress this enough. I made my V stitch scarf out of the Mighty Stitch Worsted and want to wear it all the time. I.m also making hats with it and just love the sheen, drape and stitch definition. While you have to be aware that you are ordering a very thin worsted yarn I can only highly recommend this for wearables. They come out feeling and looking luxurious.
My second favorite pro of this yarn is the colors are beyond gorgeous.
Check out this link to see all the beautiful Mighty Stitch color choices!
 Knit Picks Mighty Stitch Bulky Yarn Review
I have made a little video to show you this yarn. Click this link!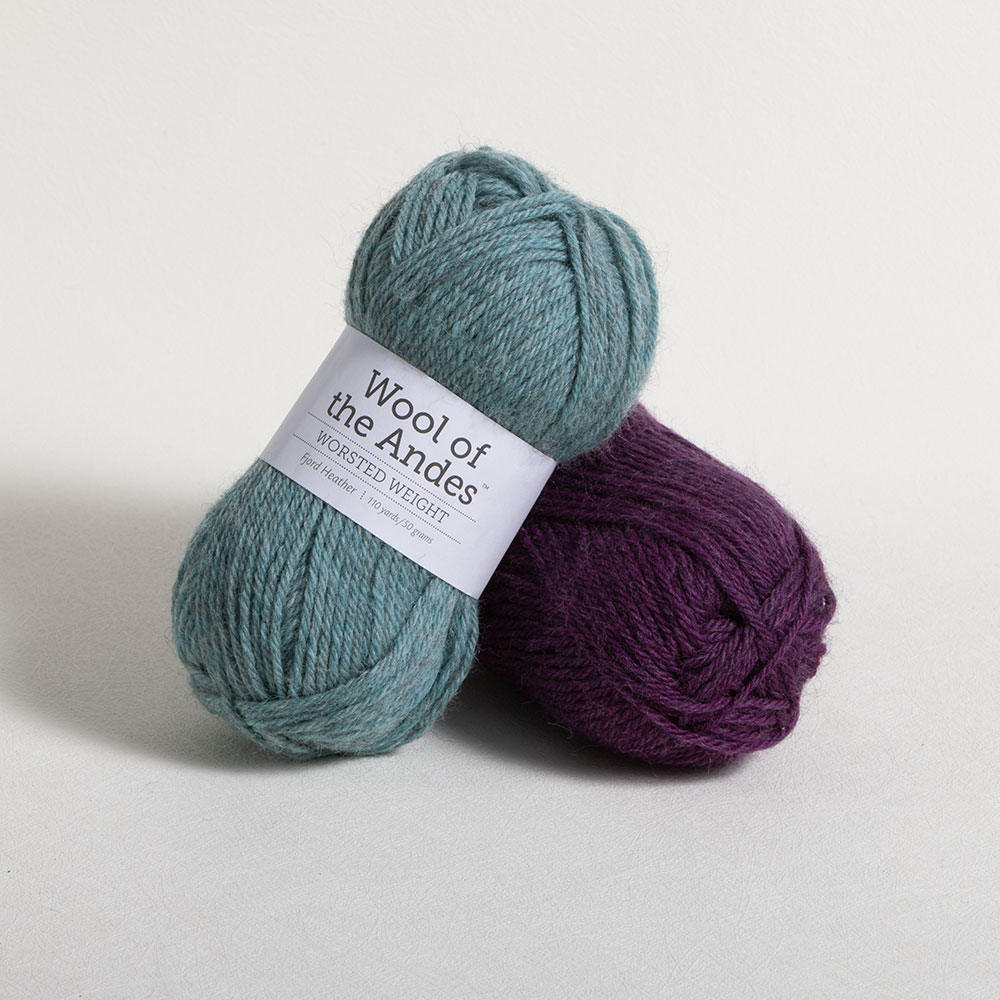 The wool of the Andes was one of Knit Picks first yarns and they consider it their "work horse". I am currently making an old fashioned Christmas blanket and really wanted to use natural fiber. I also didn't want to break the bank. The Wool of the Andes yarn is 100% Peruvian Highlands Wool and comes in skeins of 5og for $1.99. This really didn't break the bank!
It is 100% wool and is just under $4.00 for 100g! That is huge! I have little experience with 100% wool and was a quite nervous at first when I ordered enough to make a whole throw. Now that I am halfway done,  the difference to acrylic blankets is incredible. Wool is WARM. Wow! I am definitely loving the worsted weight. While it is on the thinner side, the stitch definition is beautiful and the yarn has a lot of bounce. Another pro for me are the color choices. I can really recommend this yarn if you are interested in venturing into crocheting with wool. I will also use this yarn for felting.
I have noticed that there is a slight difference in the dye lots.This bothered me at first as I am used to acrylics yarns being so consistent with dyes. Looking at the blanket now, though, it makes it look even more old fashioned and adds to the natural experience of all wool.
The yarn is also not the softest. I was expecting some scratchiness with the all wool fiber but am actually pleasantly surprised that it does feel fine on my skin while I work with it.
Check out all the color choices (there are 100!) of Wool of the Andes worsted weight here!
All in all, my experience with Knit Picks has been great and I really recommend ordering from them. Do you have any experience with them? Leave a comment and let me know!
Happy crocheting!