Crochet causes happiness
Next on the list of the top ten positive emotions you can link to crochet is Serenity. The feeling of peace and calm that comes from repeating a pattern, feeling the yarn between your fingers and watching your project grow ever so slowly is one of the secrets to why this craft induces long term happiness and health. Some crochet patterns achieve the perfect balance of repetition and complexity. They can keep you interested and won't take too long, but can get you into a state of crochet bliss. Sprinkled in this article are a few of my favorite Serenity inducing patterns, like: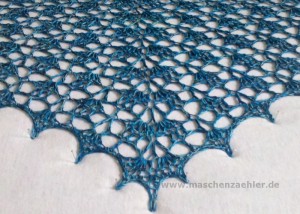 The Elise Shawl by Evan Plevinsky
I love making this beautiful, airy shawl. After blocking, the pattern really comes to life and I highly recommend making a few of these shawls with different yarn weights.
Crochet brings peace
Serenity was the first positive aspect of crocheting I really got to experience for myself. Over the years I have talked to many people and the calming effects of our craft is the number one most mentioned benefit. This is not only anecdotal, studies actually show the improvement of patients suffering from eating disorders through the help of calming their anxiety with needle crafts.
The greenway afghan by Donna Yaccino on the Berroco design page
This is such a beautiful, simple, yet sophisticated pattern and your color combination choices are endless!
Crochet against Anxiety
One of the worst parts about suffering from an anxiety disorder, for me, were the periods in between attacks filled with crippling, almost obsessive dark thoughts that had a firm grip on my reality at the time. When you sit and crochet, though, your mind is simply too occupied to really go down the rabbit hole. Counting stitches and looking at your accomplishment keeps you firmly centered in the present moment. The diminished intensity of these obsessive thoughts worked almost better than the drugs for me and while I crocheted I began to feel at peace. Later I was able to carry this feeling of calm over into other situations, almost like I had been doing chin ups and could suddenly move a piano. This is how our brains work. Anything you practice for a long time will be easily accessible, like you are cutting a path at first and slowly building a street until the experience of serenity becomes second nature and the emotion is easily available to you.
Make this Triangle shawl from mypicot in one color or mix four different colors to really show off the pattern.
Crocheting is like meditating
I have always had a very hard time meditating, but I believe crocheting is a way for me to reap all the benefits of meditation and end up with pretty little objects to show for my time. So, congratulations, you are already preventing high blood pressure, warding off anxiety, practicing mindfulness and teaching your brain to feel serenity. Just keep crocheting!