Do you know the feeling you get when you are truly grateful? The way gratitude can open your heart and make you connect with someone? Or the way unconditional giving can make you just as happy as the person you are giving to? In the spirit of the season I want to explore another distinct positive emotion and how crocheting for charity can be a tool to achieve and practice it.
Crocheting for Charity
Keep reading to learn more about crochet related charities and how you can help!
Gratitude causes Happiness
Research in the field of positive psychology shows that gratitude is strongly linked to greater happiness. When you practice gratitude the emphasis of your thinking will be on the goodness in your life and this will strengthen your resilience against adversity. Gratitude also has the power to connect people. I have received a lovely comment recently about how crocheting has helped one of my readers with building positive relationships when she gifts her items. The comment has brought me the idea to explore this happiness inducing emotion and how it links to crocheting.
Gratitude when we are giving?
I believe we do not only feel gratitude when we receive. Gifting can provoke some of the same emotions as receiving. When my daughter has a present for me she is just about as giddy as can be and can't wait for me to open it.  It truly makes her happy when she gives. Giving something handmade is even more exciting as she is also proud of her work. (Did you know pride  is actually another one of the ten distinct positive emotions that can boost your everyday happiness?)
Crocheting for Charity
People who do it regularly know this already. Contributing to a good cause and being charitable can do wonders for your own happiness. It will connect you not only to other people but also to something bigger than yourself. In the spirit of Thanksgiving and the Holiday season I have found a few causes where your  donated crochet items may really do some good.
This amazing charity has been keeping people warm since 1992 through handmade blankets and hats.
They accept
Finished adult, child, and baby size afghans
Adult hats
Scarves
Baby clothing
7″ x 9″ knit and crochet sections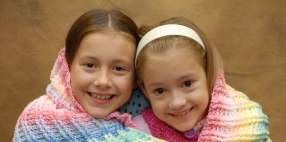 This Charity donates security blankets to the neediest of kids. Sometimes a blanket provides much more than just warmth. They accept
any knit, crochet or quilt blanket
Check out their list of patterns to get some inspiration!
This California based charity currently donates over 4000 hats and tiny baby blankets per month! They aim to provide warmth, comfort and dignity to patients undergoing chemo therapy or people suffering from hair loss due to other factors . In 2013 they began providing tiny hand made blankets to preemies and other babies in incubators.
Knots of love accepts
chemo caps
hats
baby blankets
Be sure to read their guidelines before you submit a donation!
Other ways to help with crochet
The above list is only a small example of charities or places you can donate your handmade contribution. I would check with your local hospital as they are often grateful for blankets and chemo caps!
Let me know in the comments where you have donated in the past or if you are involved in a charity currently looking for crocheted donations!